news archive
Last updated: 22 January 2014
Old News Items, moved from the News Page
The Last Film Festival
Liz Smith reports that there will be a screening of The Last Film Festival in New York on Sept. 15th.
Jacqueline the "face" of Avon ANEW Platinum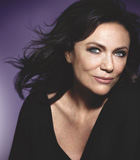 Avon is introducing a new line of skincare products for women over 60, called "ANEW Platinum", and Jacqueline Bisset will be the model representing the line. The advertising campaign will kick-off in November. Read the press release here.

Nick Nolte: No Exit on Sundance Channel
Reminder, the Nick Nolte interview/documentary, which includes Jacqueline, will air on August 2nd on the Sundance Channel at 8:00pm Eastern/Pacific time; with a repeat at 3:15am Tuesday morning.
Jury President, Ibiza International Film Festival
Jacqueline was also the president of the jury at this year's Ibiza International Film Festival (May, 2010). The festival website has some nice pictures of her.
Vogue Paris
The May, 2010, issue of Vogue Paris, the French fasion magazine, has a full-page portrait of Jacqueline. The photo was taken by Penélope Cruz.
Jury Chair, Chicago International Film Festival
Jacqueline is the chair of the jury at this year's Chicago International Film Festival (October, 2009). There have been various interviews and photos in the news.
Photo in the Globe
The August 3rd isue of the tabloid Globe has a photo of Jacqueline in a bikini in Ischia. The picture (about a half page) is on page 3.
New York Magazine Article
New York magazine has an article about Jacqueline in its latest issue.
Ischia Film Festival award
One source reports that Jacqueline will receive a lifetime achievement award at this year's Ischia Global Film & Music Fest later this month.
Death in Love opening in NY and LA
Jacqueline's new movie, Death in Love will open in New York and Los Angeles on July 17th. It will be playing at Quad Cinema (Manhattan), Laemmle Town Center (Encino), Laemmle Music Hall (Beverly Hills), and the Laemmle in Pasadena. See also the film's official website.

The poster is depicted at left (click for a larger version).

New TV Pilot!
The Hollywood Reporter says that Jacqueline Bisset has been cast as one of the leads in a pilot for CBS: "The Eastmans". It's described as depicting a dysfunctional family. Jacqueline's role is the mother, an ER nurse.
New Award!
Jacqueline has been awarded the 2008 "DIVA World Movie Award". The DIVA awards are German entertainment awards. [The English language version of their website hasn't been updated, apparently.]
New Films
In recent interviews, Jacqueline has mentioned two new films she has done. One is in a comedy called The Last Film Festival, in which she plays a "somewhat crazy" fading Italian movie star at a third-rate film festival. The movie is produced and directed by Linda Yellen, who also did Jacqueline's End of Summer. The other project (which sounds like filming is complete) is the French film Le Concert, in which she plays an American tourist.
Magazine cover
Jacqueline was on the cover of the August issue of Great Health magazine. I never saw it on a newsstand, but you can get a digital version online.
Vote for Jacqueline!
GQ Magazine (American edition) has compiled a list of the 25 Sexiest Women in Film. Jacqueline is one of them, and you can vote for your favorite. Update: This feature appears in the November, 2008, issue, on newsstands now. The picture of Jacqueline is almost a full page in the magazine. In the online voting, she has had a solid hold on first place for a few weeks.
Hamptons International Film Festival
(updated) It is now confirmed that Jacqueline will attend this year's Hamptons International Film Festival (October 15-19). She will be in a special program, "A Conversation with Jacqueline Bisset", moderated by Alec Baldwin.
Jacqueline returns to Turkish Film Fest
Jacqueline is attending the Golden Orange Film Festival in Antalya, Turkey, for the second year in a row, which includes the 4th International Eurasia Film Festival.
Another Best Actress award: Boston Festival
Jacqueline was named "Best Actress" at the 24th Boston Film Festival (Sept. 12-18, 2008) for her performance in Death in Love
Photos and Article in Hello! Canada
There is a three-page article on Jacqueline and her thatch-roofed cottage in the September 22 issue of Hello! Canada. I'm not aware of this article appearing in the British edition of Hello!, though it does refer to her as being 63, and by the time this article came out she was 64,
Daily Mail Interview
In June, the British newspaper the Daily Mail published an interview with Jacqueline in their Weekend magazine. Here is a copy of the text.
Jacqueline wins Best Actress at Ibiza Festival
Jacqueline won the Falco d'Or (Golden Falcon) for "Best Actress" at the Ibiza International Film Festival, for her performance in Death in Love

Here's an older article in Spanish about the festival.
New (Indie) Film
Jacqueline has been shooting a new film in New York City called The Last Film Festival. It's directed by Linda Yellen and co-stars Dennis Hopper and LeeLee Sobieski (Joan of Arc).
New TV Movie
Hallmark Channel announced that Jacqueline Bisset will star in An Old Fashioned Thanksgiving, an original movie that will air in November. It is based on a short story by Louisa May Alcott.
Vaseline "Skin" Campaign
Jacqueline is one of several celebrities participating in Vaseline's "Skin is Amazing" campaign. This includes special portraits which will be auctioned for charity. Here is a photo of Jacqueline at the exhibit's opening in New York: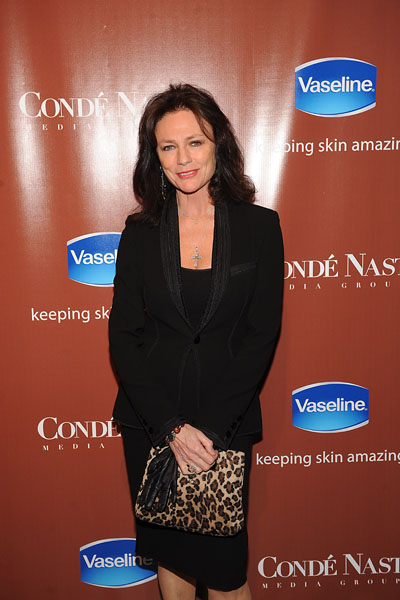 Jacqueline in Palm Springs
According to their extremely annoying website, Jacqueline will be at the Palm Springs Starfair, which takes place Dec 7-9. They are showing Bullitt on Saturday, and the list of stars says that Steve McQueen's widow (Neile Adams McQueen) and Jacqueline Bisset will be there. The web site also says stars will be available for autographs, etc.
[Any website "designer" who uses flash to present text like this should have his/her mouse taken away and be forced to use a 300 baud dail-up modem for a month. Not to mention using MSWord for "printable" documents.]
New film: Death in Love
Update: Death in Love will have its world premiere at the 2008 Sundance Film Festival (not in competition). Jacqueline co-stars in this movie, shot in New York City. Written and directed by Boaz Yakin.
Bunte Interview
In July, the German magazine Bunte published an interview with Jacqueline. Here is an English translation of it.
Jacqueline is an Honorary Guest at Turkish Film Fest
Jacqueline is a guest of honor at the 44th Golden Orange Film Festival in Antalya, Turkey, October 19-28. Here is their press release.

I have heard form another fan that Jacqueline was seen in Turkey with her boy-friend, Emin Boztepe (they have been reunited since summer, at least).
Career Achievement Award
The Chicago International Film Festival's Summer Gala has chosen Jacqueline to receive its highest honor, the Gold Hugo Career Achievement Award.

Tickets are available here for this July 14th event.
And also in Rome...
The Roma FictionFest (which seems to honor television from around the world) is also giving Jacqueline a Lifetime Achienvement Award. The Festival starts July 2nd, and includes screenings of Carolina Moon. It looks like the awards are on the last day, July 7th.
New British Magazine
I haven't seen the magazine yet, but I understand that there is an article about Jacqueline in the new (June, 2007) issue of British Harper's Bazaar.
People's Most Beautiful People Issue
There's a very small picture of Jacqueline Bisset, along with other age 60 and over women, on page 202 of the current issue of People magazine.
April Allure Magazine
I posted this to the Yahoo group but forgot to post it here. The April, 2007, issue of Allure magazine has an interview with Jacqueline. The article also inlcudes several photos (mostly older).
New Film, Not!: Chatham
Update: Now, according to the Cape Cod Times, Jacqueline Bisset has been replaced by Mariel Hemmingway in Chatham. That's too bad. But the director sounds a bit flaky, if he can't make up his mind about who he wants. Or maybe Jacqueline never really signed on.

Old post about this: According to the Cape Cod Times, Daniel Adams, the director of Chatham, has cast Jacqueline Bisset as the female lead in the movie. She replaces Anne Archer; David Carradine has also replaced Burt Reynolds. [Didn't she also replace Anne Archer in Wild Orchid?] The Times article says that Reynolds had to drop out for medical reasons, and that then Jacqueline was a better match for Carradine.

The movie revolves around three old sea captains (Carradine, Martin Landau, and Dennis Hopper) who send away for a mail-order bride (Jacqueline). Jacqueline previously appeared with Landau in the TV miniseries In the Beginning.
New Interview, Online
Another fan has pointed out this interview, done by local LA TV station is now online. It's mostly about Carolina Moon, but also mentions "Nip/Tuck".
Interview/Article in Sunday Telegraph
The Sunday January 21st issue of the British newspaper, the Telegraph had this interview with Jacqueline in their magazine section, "Stella". (Sorry for not posting sooner.)
Carolina Moon
update: The TV film, Carolina Moon, based on the book by Nora Roberts and co-starring Jacqueline, will premiere on the Lifetime Cable Network on February 19th, at 9pm. More info here.
Cairo International Film Festival
Jacqueline Bisset listed as a guest to appear at the Cairo International Film Festival, November 28 to December 8.
Save the Last Dance 2
MTV will show Save the Last Dance 2 on October 7th & 8th; according to their website it will be released on DVD on October 10th. It is available both through MTV's website and amazon.com. (They've dropped the "Stepping Up" subtitle.)

This MTV webpage has a link to the trailer (though you have to watch and ad for Jackass or something else first). See also this page.
Nip/Tuck
Update: Jacqueline didn't appear this week (Sept. 19), but it looks like she will be in next week's episode. Her first appearance was on the Sept. 12th episode. It has ben reported that Jacqueline has been signed to do a half dozen episodes of the FX (cable) show Nip/Tuck for the upcoming season.
Antonio Vivaldi
IMDB says that Jacqueline is "attached" to a new film, Antonio Vivaldi, in which she will play "The Countess". Presumably a biography of the composer and violinist. The fact that she is listed as "attached" may mean that the casting is not yet definite (Malcolm McDowell is also "attached").
Here is the producttion company's web page for the movie; includes a picture of Jacqueline.
Back to Karlovy Vary
Update: apparently Jacqueline had to cancel this appearance.
Jacqueline's travels continue with a stop at the 41st Karlovy Vary International Film Festival in the Czech Republic. (She also attended this festival two years ago.) "The Fine Art of Love" gets its Czech premiere on July 3rd, with a repeat on July 7th. Director John Irvin will also be there. Much of the movie was shot in the Czech Republic.
Moscow International Film Festival
Jacqueline is a very busy woman this week! She was in Moscow June 27th for a press conference at the Moscow International Film Festival, which is also screening The Fine Art of Loving (L'Educazione fisica delle fanciulle) Will she make it back to LA in time for the Poolside Chat?
LA Film Festival: "Poolside Chat" 28 June
Jacqueline will be making an appearance at an event connected with the Los Angeles Film Festival, this coming Wednesday, June 28. She will be participating in a "poolside chat" called La Dolce Vita: Celebrity Photography, Then and Now. Tickets are $15 at the door.
Art Film International Film Festival
Jacqueline will be opening the Art Film Festival in Slovaka, on June 23rd; there will be a special showing of Day for Night. On June 24th, she will be presented the "Actor's Mission Award". See the festival's website for more information. Looks like they borrowed photos from my website for theirs.
Update: There are now a few medium-sized photos of Jacqueline at the festival on the "Press Service" page.
AFI Tribute to Sean Connery
On June 21st, the USA (cable) Network will be airing AFI Life Achievement Award: A Tribute to Sean Connery at 9pm Eastern/Pacific time, with a repeat at midnight (June 22nd) [check your listings]. Jacqueline attended the tribute, but I do not know if she will appear on the show. She did co-star with Connery in Murder on the Orient Express.
Mr. & Mrs. Smith Unrated
Fox is releasing a new, deluxe "Unrated" DVD version of Mr. & Mrs. Smith on 6 June 2006. This version will have a second disc full of extras -- including (it looks like) at least some of Jacqueline's deleted scenes.
Jacqueline to present at the IndieProducers Award Gala
Update: I can't find any evidence that Jacqueline was actually at this event. I've now looked at 300+ photos of the gala on the IndieProducers' website, and there are none of Jacqueline. The Yahoo news item must have been wrong.
[Original item: Yahoo! reports that she will be a presenter at the IndieProducer Awards Gala" on May 12th. Tickets are (were?) available.]
Recent Magazine Appearances
There is a small B&W photo of Jacqueine (with Seymour Cassel) at the Oscar party in the latest issue of Vanity Fair. This is the "green" issue of the American edition.

There is an even smaller picture in the latest issue of People: the "100 Most Beautiful People" issue. There is one page about beauty at every age, and Jacqueline is there for age 61.
US Release for Steppin' Up: Save the Last Dance 2
According to the IMDb, the US Release date for Steppin' Up: Save the Last Dance 2 is January 26, 2007 (!). (That seems like a long time to wait.) It doesn't say that that is for a video/DVD release, which might imply a theatrical release. But it's a long way off.
US Premiere of The Fine Art of Love
The US premiere of Jacqueline's latest movie, The Fine Art of Love, will be in Los Angeles, February 28, at the Italian Film Festival (part of "Los Angeles, Italia"). [thanks, Jacky]
Jacqueline in Bunte Magazine
This is late, but I just found it: the 12 Jan 2006 issue of the German magazine Bunte has an almost full-page picture of Jacqueline, in connection with a small article about "Art and Snow" (and parties) in St. Moritz.
Swing DVD: Jan 24
The Swing DVD is now available for rent or purchase from various vendors. Here is an update from Mary Keil.
Jacqueline at Capri Fest
Jacqueline attended the Capri Film Festival, which was Dec. 26 - Jan. 2 (I know I'm late with this). The Fine Art of Love was shown.
Swing plays Palm Springs
Swing is playing at the Camelot Theatre in Palm Springs. It looks like a one week run (Dec 16 - 22). They also have a second page with more information.
German website, interview
Jacqueline appeared on the German gameshow Wetten, dass..? December 10th. A substantial interview from the show (in English) has been posted on their website. Very interesting - check it out.
Italian Vanity Fair
The December 15th issue of the Italian edition of Vanity Fair magazine has a large (old) picture of Jacqueline as part of a small feature.
Steppin' Up: Save the Last Dance 2
It has been reported that principal photography has been completed on Steppin' Up: Save the Last Dance 2. Jacqueline plays the mentor of Sara (played in this sequel by Izabella Miko). It sounds like this might be a direct to DVD production, but perhaps there will be a theatrical release.
Jacqueline to attend Premiere of Walk the Line
According to this press release, Jacqueline will be attending the premier of Walk the line, the Johnny Cash biopic, on Thursday, November 10th, at the Academy of Motion Picture Arts & Sciences.
New online article in Saga Magazine
The British magazine Saga has a new article about Jacqueline online. It mostly talks about her relationships with men, and confirms that she has split with Emin Boztepe (without naming him).
Variety Magazine - 2 small photos
Here's the ad from Variety magazine (Oct. 10-16 issue) for "Summer Solstice":


Here are close-ups of Jacqueline: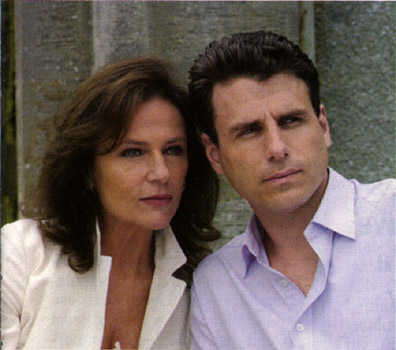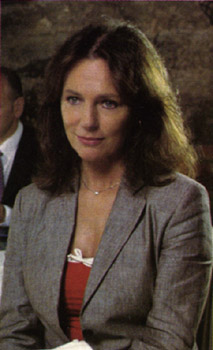 Domino Premiere
Here are some pictures of Jacqueline at the LA premiere of Domino (in the third she is with Victor Drai).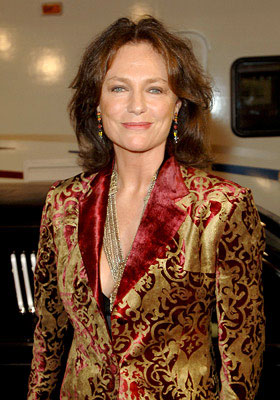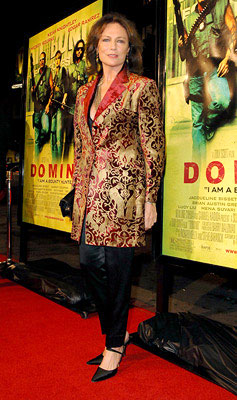 The Fine Art of Loving - Mine Haha Italian release
According to the IMDb, The Fine Art of Loving - Mine Haha (a.k.a. "The Grooming") will be released in Italy on November 25.
OK! Magazine - small photo
There is a very small headshot of Jacqueline in the current issue of the American edition of OK! magazine, near the back. It's from the premiere of In Her Shoes.
Domino Sneak Peaks
Domino will be released Ocotber 14th, but there will be "sneak previews" in various places on October 7th (and possibly other dates). Check your local newspaper.
New Project: Stepping Up
It's been reported that Jacqueline is shooting a new film in Toronto called Stepping Up, with Izabella Miko.
Domino at Montreal Film Fest - Oops, no it's not
The premiere of Domino at the Montreal festival has been cancelled. According to Zap2It, none of the "talent" was available to promote it, so New Line Cinema saw no point in showing it there. Apparently the festival will now close instead with Pride and Prejudice, another Keira Knightley film (which already had a premiere in Toronto).

It seems likely there will be a Domino premiere in LA a day or two before the release date of October 14.

It had been announced that Domino would have its world premiere at the First New Montreal Filmfest. This is a new festival, sandwiched in between two longer-established cinema festivals in Montreal. It didn't do very well, and there has been some controversy over the need for a third festival.
Venice Film Festival
Here is a picture of Jacqueline arriving at the Venice Film Festival. (Thanks Carlo.)
| | |
| --- | --- |
| | Here's another photo from Venice. |
Jacqueline is attending the 2005 Venice Film Festival, where The Fine Art of Love - Mine Haha (formerly known as "The Grooming") will have its world premiere (out of competition).
Swing DVD: 2006
The Swing movie website says the DVD will be released in early 2006, and that the "Special Features" will include "never before seen behind-the-scenes dance footage".
July Harpers & Queen
The July, 2005, issue of the British fashion magazine Harper's & Queen has a B&W photo from 1977 of Jacqueline and then boyfriend Victor Drai in a disco. It's near the back of the magazine.
Latest on Domino release
The Domino movie website now says that the movie will be released October 14th. Maybe they didn't want to look they were expoliting Domino Harvey's death.
Domino Harvey has died
Domino Harvey, the subject of the upcoming film Domino was found dead in her bathtub last night (27 Jun 2005). Here's the London Times article and the Telegraph article.

One article says the recent re-shots for the movie was to incorporate Ms. Harvey's recent arrest on drug charges; it speculates they may need to reshoot again to accomodate this new, tragic, turn of events.
Update: According to several news sources, the release date for Domino is back to August 19.
New project: Summer Solstice
Another fan has pointed to German websites that show Jacqueline is working on a new project called "Summer Solstice". This is based on a book by Rosamunde Pilcher, like "September" (that was also German/British production). Here are the German websites: Presse Portal and Donau.de.
Swing news
The overseas (non-US) rights to Swing will be marketed by Showcase Entertainment.
Here's an article from the San Francisco Chronicle on the making of Swing
Domino update
Dang! Now it looks like the Domino release date has been pushed back all the way to November 4, 2005. One report says they are doing some reshooting in LA.
Dancing at the Harvert Moon
The TV movie Dancing at the Harvest Moon will show on the Lifetime network on June 21st (9:00pm EDT) August 4th (rescheduled).
Jacqueline to Receive Pioneer Award
LA Femme Film Festival has announced that Jacqueline Bisset will be honored with their "Pioneer Award". This award, with several others, will be presented at their Festival in LA, May 27-29. (See item below for website.) The complete press release can be seen here.
The awards ceremony will be Sunday, May 29th; tickets are $30.
The Grooming
The movie previously called "Hidalla (Mine-Haha)" or "Laughing Water (Mine Ha-Ha)" has been renamed "The Grooming". IMDb lists it as "completed", but no release date shown yet.
Latter Days in Germany
There is now a German website for Latter Days, which will be playing some short engagements in Germany.
German Interview
Speaking of German websites, the same fan also pointed me to this older one with an interview with Jacqueline.
More Domino news
There is now an official website for Domino which includes a short trailer (Jacqueline appears very briefly).

Yahoo also has a page for Domino. It has the trailer in two formats and several sizes, plus other info.
New Discussion Forum
A longtime Jacqueline Bisset fan and regular correspondent, who happens to be named "Jackie" has set up a new discussion forum/email list at Yahoo. Here is the webpage to sign up.
(Older) Article/Interview
This isn't new (it's from 2003), but I just found it: an article/interview with Jacqueline on the occasion of the DVD release of "Day for Night". You have to scroll about halfway down the page; look for her picture.
Jacqueline Interview
The FilmStew.com website has a new interview with Jacqueline focused on her work with director Klaus Menzel in "Fascination".
"Fascination" website
The English language Fascination website has been updated with the trailer, etc.
It looks like the Jan. 28th opening of "Fascination" will be very limited release. It will open in New York City, Washington DC, Miami and LA; also Boston and Chicago (perhaps a few other cities). Hopefully it will go wider in the coming weeks. However, at least one review says it will go to video and cable from here. (The reviews of the movie are not very favorable, though they generally refer to Jacqueline in glowing terms.)
A Reminiscence of Jacqueline in Korea
There is article in a Korean newspaper (in English) about spotting celebrities in Itaewon (a district in Seoul, I take it). In particular, the writer, Mike Ferrin, quotes an American (Tom Casey) who has lived in Korea "for decades" and ran a pub there. Casey recalls some of the stars of "Inchon" hanging out at his place (c.1980). Here's what he has to say about Jacqueline:

"She was amazing; she would effortlessly speak Italian to Gazzara one moment, French to Hepburn's son the next, then German to somebody, then English to me. And she was so at ease with everyone she met, foreigners and Koreans alike."
French Film Festival
Jacqueline will co-chair the jury at the "Festival Premiers Plans" in Nantes, France, 21 Jan to 30 Jan 2005. Here are some links: festival website; and at Radio France.
"Laughing Water"
The same fan who sent those links also sent a link to the website of the make-up artist who worked on "Minehaha Laughing Water" which has some photos of Jacqueline and the rest of the cast: AlessandroBertolazzi.it.
"Swing"
According to the Swing website, "Swing" will play at the Lark Theater in Larkspur, California, Feb. 11 - 17th. But the Lark Theater site lists it for only Feb. 11 - 15.
Swing World Premiere
OK, it took me awhile to get to this update, but...
Jacqueline was at the Orinda Film Fesitval for the world premiere of Swing.
And I got to talk to her for several minutes at the after party:


The movie Swing has its own website (though sometimes the server is down).
Swing in LA
Swing will be shown at the first LA Femme Film Festival at the Los Angeles Center Studios in downtown LA, on May 28th at 6:00pm.
Australian Magazine: Fresh
There's a two-page article on Jacqueline in the current (May 23rd) issue of Fresh, an Australian magazine.
Z Channel: A Magnificent Obsession On IFC
The documentary, Z Channel: A Magnificent Obsession will have its TV permiere on the Independent Film Channel (IFC) on Monday, 9 May, at 9pm Eastern time. Jacqueline appears very briefly in this film. IFC will also show this documentary several times on Saturday and Sunday, May 14 & 15.
Fascination on DVD
Fascination, which had a very limited US theatrical run in January and February, will be released on DVD on May 31st. On the same day, St. Ives and Bullitt (two-disc special edition) DVDs will also be released. And one week earlier (May 24) sees the release of The Detective on DVD. All can be pre-ordered at amazon.com and similar sites.
Glitter Award nominations
Another fan has pointed out that Jacqueline has been nominated for a "Glitter Award" (the International Gay Film Awards) for her performance in "Latter Days". Steve Sandvoss is also nominated, as is the movie itself. Here is the complete list (from Film Threat). The awards will be presented on February 25th in Hollywood (tickets are available on ticketweb.com.)
New Year's Day released on DVD in USA
The British film New Year's Day, in which Jacqueline has a supporting role, has been released on region 1 (US/Canada) DVD.
Z Channel: A Magnificent Obsession
This documentary about the eclectic and groundbreaking LA pay cable channel has been playing at various film festivals, and now is getting limited runs in some theaters. Jacqueline is only on screen briefly, near the middle of the 2-hour movie (which could have been trimmed 10 or 20 minutes, in my opinion). A small picture of her face is on the poster. Produced by IFC films, it will show up on the Independent Film Channel in the not-too-distant future, I'm sure.
Bunte and Studio
This is a little late, but anyway: there was a two page article on Jacqueline at the premiere of "Fascination" in Berlin, which featured a one page photo of her, in the Oct. 28, issue of the German new magazine Bunte. And a recent (Nov.?) issue of the French film magazine Studio has a "Tribute to Truffaut by the Women who Love Him" (or something to that effect). There are a couple of small B&W photos of Jacqueline with Truffaut, from filming "Day for Night".
Updates on Future Projects
As noted below, "Fascination" will be released in the US on Jan. 28, 2005. She has completed filming the John Irvin film, called "Hidalla (Mine-haha)" (IMDb lists it as "Laughing Water (Mine-Ha Ha)"; no release date yet.
She also is filming her role as Pauline Stone, Domino's mother, in "Domino" (expected to be released in 2005). Jacqueline is not in "Mr. and Mrs. Smith", despite reports to the contrary. Apparently this conflicted with other projects she wanted to do.
Nor is she in any films called "Legacy", "The Last Sign", or "Badenheim", despite the reports, websites, etc.
There should be a video/DVD release of "Swing" in the not too distant future; perhaps early 2005.
Jacqueline in Berlin
Jacqueline attended the premiere of Fascination in Berlin. There are photos on the "Getty Images" website.
Jacqueline joins Domino
The Hollywood Reporter reports that Jacqueline has joined the cast of Domino, a new movie directed by Tony Scott. Based on a true story, it has just started filming. She will play the mother of the title character, Domino (Keira Knightley) Harvey, daugher of Laurence Harvey.
Murder on the Orient Express DVD
Murder on the Orient Express has been released on DVD. It includes some "making of" featurettes. Jacqueline provides some brief comments, along with several other actors, and the producers and director.
Fascination to be released in Germany in October
Update: Dang: the US release date is now listed as January 28, 2005. The release date for Germany was pushed back just one week, to October 14.
[Old posting: The Associated Press lists Fascination, co-starring Jacqueline, as an October release. The IMDb gives a release date for the US of October 15th (October 7th in Germany). Some other sites say September 17th, but I think the October date is more likely correct now.]
I hope it's true; I believe this film has been sitting on the shelf for more than a year.


Here's another German website with some larger photos ("bilder").

Here's German website with some photos.
Update: Another fan sent along two more URLs. The first is for another German website with a lot of "flash:", a trailer, etc.
The second is in english but has very little, except about the story, and obviously hasn't been updated in a long time.
Latter Days on video
Latter Days will be released on DVD and VHS on September 7th.
Karlovy Vary International Film Festival
Jacqueline was at the 39th Karlovy Vary International Film Festival (Czech Republic). If you enter, and click on "press" and "photos", you'll find pictures of her on July 2, 4 and 5. She presented a special screening of "La Nuit Américaine", and was awarded the "Prize of the town Karlovy Vary". She is also mentioned in "news" on days 3 and 4. In particular, it refers to:
New John Irvin Film
Apparently she was on her way to Mariánské Lázne, CZ, to shoot a new John Irvin film, in which she will play a "strict headmistress in a ballet school".
Update: another fan points out that this film is named Hidalla (Mine-Haha) based on the story "Mine-haha" by Frank Wedekind. Cinecitta has a webpage in English about it. (Also available in Italian: click on the little Italian flag.)
AARP Magazine
Another fan reported that there is an article in the new issue of the AARP Magazine (formerly "Modern Maturity") about Jacqueline. (It's the issue with Cybill Shepherd on the cover.)
More Magazine
A reader points out that there is a two-page article about Jacqueline in the latest issue of More magazine (June, 2004; Ellen Degeneres on the cover). There is about a half-page of questions & answers; several pictures of her home's interior; and one small picture of her.
Jacqueline joins "Mr. & Mrs. Smith"
Another fan has pointed me to a recent Army Archerd column in Variety in which Archerd says Jacqueline has joined the cast of "Mr. & Mrs. Smith", the Brad Pitt/Angelina Jolie picture now filming. This has been confirmed by other sources, but she is not listed in IMDb for this movie. This is Jacqueline's first appearance with her god-daughter Angelina. (Jacqueline starred with Angelina's father, Jon Voight, in "End of the Game".) "Mr. & Mrs. Smith" is not due to be released until 2005. [Update: it turns out she is not in this movie.]
New Movie: "Badenheim"
It has been reported that Jacqueline will star in the movie "Badenheim" with Klaus Maria Brandauer (see the notes on her appearance in Orinda, below). The movie is described as a tragicomedy set during WWII. [Update: another false rumor.]
Update: I see no sign this film ever went into production. Klaus Maria Brandauer is reported to be working on a film called "The Fourth Generation".
Film project (?) "Legacy"
Another reader has pointed out this webpage: BV International Pictures which lists a film called "Legacy" as in pre-production, with Jacqueline in the cast. However, since the press release is a year old, I don't know if this film will ever get out of pre-production. There are a few photos, though. [Update: no such film.]
New movie: The Last Sign
A correspondent has pointed out that Jacqueline is co-starring in a new Anglo-French-Canadian production called The Last Sign. Or you can see the "flash" version of the website here.
Update: The Movision website describes this film as "completed" but I have heard nothing else about it.
Short Interview
Here's a couple of paragraphs about Jacqueline by a San Francisco columnist.
Swing Distribution Deal
According the Swing website, the movie has a distribution deal with Dominion International, and Swing will hit theaters in NY and LA in "early Spring", 2004 (previously said February). No mention of wider distribution.
The Swing website now has a trailer for the movie (mpeg). Also some photos, under "Press". They have a very slow server.
Update: Swing will open for a limited run in LA on June 18th, and in NYC on July 9th. See the Swing website for details.
Latter Days Charity Events
With essentially no outside advance publicity, there were a couple of charity showings of Latter Days in San Francisco last week. You can see some photos at the Frameline website (this was "members only"). About the second screening (4/2/04) for "Maitri" (presumably maitrisf.org), I have found nothing.
Friday: Late Late Show and Wayne Brady Show
Jacqueline is scheduled to appear on Craig Kilborn's Late Late Show Friday night (Saturday morning on the East and West coasts). And on The Wayne Brady Show.
Update: She was first guest on both shows, and had good interviews.
The Survivors Club March 7th
Jacqueline's new TV movie, The Survivors Club, will premiere on Sunday, March 7th, at 9:00p.m., on CBS.
CBS now has a web page with some photos and a link to the preview.
CBS is inconsistent in the punctuation of the title. On the page listed above, they use an apostrophe before the final 's'. In other places (and in the preview), there is no apostrophe. If you are going to put one in, I think it should go after the final 's'.
Update: In the title, no apostrophe. In the little reservation sign on the table in the movie, sometimes an apostrophe and sometimes not.
It was mostly Roma Downey's movie.
Latter Days in NY, LA, SLC, and elsewhere
Update: There have been a lot of articles about the movie that mention Jacqueline. Here's one that focuses on her.

The Latter Days website has been updated. The "Cities & Dates" page shows that the film will open in New York City, the LA area, and Salt Lake City on Jan. 30, 2004. (It lists specific theaters.) It will playing more cities in Feb, March, and April. There have been a number of news article about the movie. I like this one at Zap2it in particular.
Sharon Osbourne Show
It has just been pointed out that Jacqueline will be on the Sharon Osbourne Show this week. This show is syndicated, so check local listing. It most places, this will on Thursday, January 29th! WGN Superstation will show it Thursday night (Friday a.m.), depending on your time zone.
Ft. Lauderdale International Film Festival honors Jacqueline
On November 14th, 2003, the Ft. Lauderdale International Film Festival honored Jacqueline with a Career Achievement Award. There is a picture on their website.
Guest Star on L&O:SVU
This week's People magazine (Nov. 24, 2003) has a review of the Nov. 18th episode, including a small photo with Jacqueline Bisset. They don't like the episode much. [But most other reviewers were more favorable; I thought it was pretty good.]
Jacqueline appeared in the preview after the 11/11 episode. Her appearances on "Ally McBeal" were overshadowed somewhat by the other guest stars (Elton John in one, Mariah Carey in the other). Here she seems to have the star billing.

Movie News
Syndicated columnists Marilyn Beck and Stacy Jenel Smith quote Roma Downey (13 Oct 03) talking about working on an untitled CBS TV movie with Jacqueline Bisset, currently filming in Canada.
Update:The IMDb reports the name of the films as "The Survivor's Club" (although I think the apostrophe should be after the "s").

The same columnists reported (16 Oct 2003) that Swing (see below) will be in limited release in December, and wider release in January. "Swing" has played several other festivals; check the Swing website.

Actor Wes Ramsey says in the Louisville Scene that "Latter Days", in which he stars with Jacqueline, will be released in January. We'll have to wait and see if this is true.

No word on when Fascination might be released.
Latter Days Premiere, with Jacqueline
Jacqueline will be introducing the movie Latter Days, in which she co-stars, at its world premiere at the opening night of the Philadelphia International Gay and Lesbian Film Festival on July 10th. (There is now a small picture of her on the festival website.)

The fact that she will be introducing the film is reported on the IndieWire website.
Nick Nolte Profiles
The Bravo network show Profiles will be airing a program on Nick Nolte that includes an interview with Jacqueline. It is showing on Saturday and Sunday morning, June 14 and 15. Check local listings for times.
More magazine
This almost is not worth mentioning, but there is a tiny picture of Jacqueline in the current issue of More magazine (the one with Christie Brinkley on the cover).
New Year's Day on UK Video
New Year's Day, the 2000 film co-starring Jacqueline, will be released on VHS and DVD in the UK on June 16th. Amazon.co.uk is taking advanced orders.
Jacqueline at 14th GLAAD Media Awards
Jacqueline introduced a film clip at the 14th Annual GLAAD Media Awards in Los Angeles. Scroll down the page and there is a picture, which you can view at very high resolution.
Jacqueline Nominated for "Chlotrudis" Award
Jacqueline has been nominated in the Best Actress category of the Chlotrudis Awards. The organization promotes independent film. Members vote the official awards, but there will also be a tally of "public" votes. So go to www.chlotrudis.org and click on the word "VOTE".
Biography Magazine
The August, 2003, issue of Biography magazine has a small (half-page) article on Jacqueline, with two small photos.
Latter Days in Chicago (and elsewhere)
The IMDb says it will open in New York, Los Angeles and Salt Lake City on January 30, 2004.
The Latter Days website also says it is "coming to theaters, January 30th, 2004".
Latter Days will be shown the opening night of the Chicago Lesbian and Gay International Film Festival, on Nov. 6. It will also play at the Fort Lauderdale International Film Festival November 15th.
Also in Dallas (small photo on that website).

Law & Order: SVU
The New York Post reported (Oct. 22) that Jacqueline will be a guest star on the 100th episode of Law & Order: SVU, airing on Nov. 18th. Mariska Hargitay's father, Mickey, will also appear. Samantha Mathis will play a crime victim and Jacqueline plays her mother.
TV-Now.com confirms this (as do other websites).
Jacqueline will play Jackie Kennedy Onassis in TV movie
UPDATE:The TBS website has a a page for America's Prince. Check it out for photos, etc. The movie will premiere on Jan. 12th, and be repeated several times during the following two weeks.

Jacqueline will also appear on ABC's The View Wednesday, Jan. 8th, and on the Caroline Rhea Show on Thursday, Jan. 9th. If your local station doesn't carry Caroline Rhea, you can see it on the Family Channel, Jan. 17 (A&E is no longer carrying The View, apparently).

Here is The New York Post's article about America's Prince.

The Hollywood Reporter has reported that Jacqueline Bisset will play JFK, Jr.'s mother in a new TV movie about the son of the assassinated president, for TBS. America's Prince: The JFK Jr. Story, from Fox TV Studios, is based on Christopher Andersen's 2000 biography The Day John Died. The movie is expected to begin production in August, to air in December, 2002, or January, 2003. Thus it should premiere before a similar CBS project. JFK, Jr. has not been cast yet, but Portia de Rossi is to play Carolyn Bessette Kennedy.
Update:Now scheduled to air January 12, 2003.

Jacqueline Bisset played "Liz Cassidy", a thinly disguised version of Jacqueline Kennedy Onassis, in the roman-a-clef The Greek Tycoon.
New Movie Filming
The Oakland Tribune (Oakland, California) has reported that Jacqueline was there filming a new movie "Swing", with Jonathan Winters and Nell Carter.

Another Newspaper Article
The San Francisco Chronicle has an article about Swing, with a photo. (Click on the thumbnail to get a bigger version.)

You can see some photos from the set.

I Met Jacqueline Bisset! Hanging around a movie location, a nice crew member invited me and I got to watch them shoot a scene. Afterwards, Jacqueline was walking right past me, and I said hello. After telling her what a big fan I was, she offered her hand, and I shook it.
Thanks crew guy, whoever you are!
Sleepy Time Gal on video
The Sleepy Time Gal will be released on VHS and DVD in the USA on January 21, 2003.
Signed to New Project: Latter Days
The Hollywood Reporter says Jacqueline has signed to do a role in the indy film Latter Days.
But Jacqueline Bisset is not in...
Kill Bill, the Tarantino film due out in October, despite some recent newspaper items to the contrary.

Nor is she in any production of I Served the King of England as at least one website reported. I don't think this project (supposedly to be produced by Woody Harrelson) actually exists.
"Secret World" on FMC
I don't usually bother listing when Jacqueline's movies are on TV, since the link to TV Now (www.tv-now.com) is on the Links page. But I note that "Secret World" is going to be shown on Fox Movie Channel several times in December. This is the first time I have seen this on American TV.
Dancing at the Harvest Moon
CBS has finally scheduled this tele-movie. It will air Sunday, October 20, 2002, at 9pm (8pm Central).
CBS's webpage for "Dancing at the Harvest Moon". It includes a 35-second preview in RealVideo.
At Writer's Forum
The Hollywood Reporter reported that Jacqueline attended a writer's forum in Monaco.
New Year's Day
It's rumored that this movie has come out on DVD in Britain (region 2). But I haven't been able to find it on any of the usual websites.
2002 Toronto Internation Film Festival
Jacqueline attended the recent film festival in Toronto. Click on "Live from the Festival" and then "Photo Gallery", and there is one photo of her.
24th Moscow International film Fesitval
Jacqueline made an appearance at the 24th Moscow International Film Festival. Boy, some of this biographical material sounds strangely familiar...

The Tass Website has some photos, if you search on "Bisset".
The Sleepy Time Gal Shows in San Francisco
Jacqueline's latest movie, The Sleepy Time Gal gets a 12-day run at the Roxie Cinema in San Francisco; June 14-25.

Jacqueline made a personal appearance at the Roxie on June 11th. I'm told she talked to the small crowd and answered questions, and that everyone enjoyed seeing her.
Jacqueline talks about Sidney Lumet
Jacqueline appear in an episode of Directors on the Encore cable network. The episode is about Sidney Lumet, and airs Thursday, May 23, at 7:00 p.m., with repeats on May 24 (6:30 a.m.), May 25 (12:05 p.m.) and May 29 (3:00 a.m.) [all times Eastern/Pacific; check local listings for Central and Mountain time zones]. Lumet directed Jacqueline in Murder on the Orient Express.
Emin Boztepe talks about Jacqueline
Here's an interview with Emin Boztepe from 1998, which touches on his relationship with Jacqueline.
Jacqueline Bisset and Angelina Jolie
Did you know that Jacqueline Bisset is Angelina Jolie's godmother? It's true, according to the latest issue of InStyle magazine (with Sela Ward on the cover). There are small pictures of Jacqueline and Angelina (not together) in the magazine. Angelina was born in 1975, about the time Jacqueline was filming "End of the Game" with Jon Voigt.
The Sleepy Time Gal on the Sundance Channel
The Sleepy Time Gal debuts on the Sundance Channel on Friday, March 29th, and will be repeated several times during the folloring four weeks.

UPDATE: I've heard that The Sleepy Time Gal will be in theaters in New York City starting May 29th.
Hamburg Neuroscience Symposium
A reader reported (26 March 2002): "Jacqueline Bisset was the guest-of-honour at the Janssen-Cilag Neurosciences International Symposium in Hamburg last weekend. She talked for 30 minutes about the difficulties and the good times she had caring for her mother until she died. She was very moving, and funny and frank."
Canary Islands Film Festival
Rodrigo from Chile points out that Jacqueline will be a guest at the 3rd Festival International de Cine at Las Palmas Gran Canaria (Canary Islands), which is March 8th to 16th. I believe she will receive an honorary award. The festival has a flashy, if annoying, website some of which is available in English.

The Hola! magazine website has an article with some small photos. These also appeared in issue #3007 of Hola!.
Jacqueline in Kill Bill! ?
It has been rumored (for example CNN.com) that Jacqueline is in talks to join the cast of Quentin Tarantino's next film, Kill Bill!. The reports may have originated with Daily Variety.
Update: Unfortunately, it now appears Jacqueline will not be in this film.
Jacqueline on The View
Jacqueline was on the morning talk show The View this morning, Febuary 13. She chatted for about 7 minutes, much of it about The Sleepy Time Gal. At the end, Lisa Ling said that the movie would show in New York "this weekend" and then air on the Sundance Channel starting March 29th. The Sundance Channel website does not have their March schedule filled in yet.

Friday's New York Times has an ad showing The Sleepy Time Gal playing at the Walter Reade Theater Saturday through Monday, February 16 - 18.

Unfortunately, I think this means the movie will not be eligible for the Academy Awards next year. I believe that requires at least a one week run in New York and LA.
Jacqueline Wins Award
Jacqueline was named Best Actress at the 1st Cambridge University Film Awards for her performance in The Sleepy Time Gal. The publication of the first issue of the new Cambridge University film quarterly, Camera Journal, has been delayed a few days, until Feb. 9th. Jacqueline has contributed a "terrific" article. You can order the magazine from their website.
Ally McBeal
Jacqueline's second appearance aired January 7th. Mariah Carey was also a guest. Her first appearance aired Nov. 26, 2001, with Sir Elton John. I don't when her third episode will air yet.
Campaign Against Anorexia...
Ironically, Jacqueline is helping the fight against anorexia (and similar eating disorders), according to the Sunday Times of London. Callista Flockhart (and other very thin actresses) have been accused of (unintentionally) encouraging such disorders.
"Heart of Stone" => "Fascination"
It has been reported that Jacqueline is in Puerto Rico filming a movie called "Heart of Stone". This seems to be different from another movie of the same title listed for 2001 in the IMDb.
Update:This film has now been renamed "Fascination".
I also got a report that she was making a film called Monet in the beginning of 2001, but never got confirmation or heard anything more.
Interview in French
An apparently recent interview with Jacqueline in French. No date on it.
UK Independent Interview
A recent interview with Jacqueline.
Some recent photos
Photos from a French film festival.
Wireimage also continues to add photos of Jacqueline (search for "bisset").
Healthy Pet Magazine
Jacqueline is on the cover of the Summer/Fall issue of Healthy Pet magazine. There is an article about her love of animals. Unfortunately, this magazine is only available to veterinarians. I will look into getting permission to reprint the article.
London Times Article
There was an article in The Sunday Times (London, 9 Sept. 2001). It talks about how Jacqueline spent much of the last 15 years caring for her ailing mother. The time and energy spent on that is one of the reasons she did not have children. It also talks about her role in "The Sleepy Time Gal", and suggests that the emotional impact of her mother's death helped Jacqueline give one of her best performances.
Sex & Mrs. X
| | |
| --- | --- |
| | The made-for-TV movie "Sex & Mrs. X" will be out on VHS and DVD on Sept. 4th. You can pre-order on Amazon.com (search under title, or by "Linda Hamilton"; it's not listed under Jacqueline Bisset). |
Magazine News
There is a small, old, B&W photo of Jacqueline on page 40 of the September issue of Premiere (American edition).

If you spot Jacqueline in a new magazine (anywhere in the world), I would appreciate it if you drop me an e-mail.
New Photo Online
E! Online has a photo of Jacqueline from the "Original Sin" premiere.
Munich Filmfest
Filmfest München honored Jacqueline with its CineMerit Award on 3 July 2001, "for her contributions to the art of film".
German Magazines: The July 12th issues of the German magazines Bunte and Gala both have photos of Jacqueline. The one in Bunte is about a half page. In Gala she is pictured with Maximillian Schell; it takes up about a third of a page.

She also appeared recently in Valencia, Spain. There is a bit of video of her and Ursula Andress.
Berlin Film Festival Jury
Newer Link: Carlo found this site with an interview. It is about a third of the way down the page. The first clip includes Jacqueline with the other jury members; the second clip is an interview with just Jacqueline (but a lot of noise in the background). It is in English.

New Link: for links to some RealVideo.

Jacqueline is on the jury for this year's Berlin Film Festival (7-18 Feb 2001); there is one picture of her under "Jury". She is mentioned here, too. And this site has a RealVideo Interview about her new movie, "The Sleepy Time Gal" (and one small photo).

Can anyone in Germany supply any video of her at the Film Festival? (Interviews, talk shows,...?)
This site gets plenty of hits from Germany.
Avignon/New York Film Festival
Jacqueline was guest of honor at the 7th Avignon/New York Film Festival. She received an honorary "Roger" award "for Lifetime Achievement, in recognition of her 30-year acting career both in France and America." [Please, no snickers from British or Australian readers.]
Movie News
Jacqueline has filmed an adaptation of the novel "Dancing at the Harvest Moon". It will show on CBS, but no word yet as to when. (My guess is February or May sweeps.) I also heard she was making a movie called "Monet", about the French impressionist.
"The Sleepy Time Gal"
The film "The Sleepy Time Gal" starring Jacqueline (and Martha Plimpton, Amy Madigan, Seymour Cassel) is being shown at the Sundance Film Festival this weekend. Both Jacqueline and the film got quite favorable reviews in Film Comment. I think this is the same movie that was filmed under the working title of "Backwards Looks, Far Corners". It was directed by Christopher Münch, and does not yet have a distributor.

Jacqueline gets a rave review in Brazil.
At the "Hannibal" Premiere
Jacqueline was seen for about 5 seconds on "E! News Weekend" (2/2/2001) at the premiere of "Hannibal", commenting about the main character. Emin Bozetepe was standing by her.
"In the Beginning"
Jacqueline will play Sarah, the wife of Abraham and mother of Isaac in the TV miniseries "In the Beginning", which is supposed to cover the Bible from creation through Moses. It is being produced for the Hallmark Hall of Fame and NBC. It is now scheduled to air on NBC in November 12 & 13, 2000 (Sunday and Monday). Martin Landau plays Abraham. I saw a tiny graphic in a big advertisement in Variety which featured the faces of Jacqueline and Landau, so it looks like they will be promoting her participation heavily. Since Jacqueline has already portrayed the Virgin Mary, here she will (in effect) be playing her own many-times-Great-Grandmother.
On Video
Another fan has pointed out that "Let the Devil Wear Black" will be released on video (VHS and DVD) in the US on June 27. It can be pre-ordered from various companies. (In one of the cast lists in the credits, her name is misspelled "Bissett" again.)

The A&E network recently did an episode of their "Biography" series about Candice Bergen. Not surprisingly, there were a few quick spots of Jacqueline commenting about her frined.
"Jesus"
Part 1 of "Jesus" was the second highest show of the week, beaten only by "ER". Part 2 was about number 10 for its week. It is being released on VHS and DVD.

"Jesus" is the cover story for the May 6-12 issue of TV Guide (even though it won't air until May 14 and 17). There is a little sidebar with Jacqueline. And the CBS website has put "Jesus" and Jacqueline on its front page. There is also a trailer (Windows Media and Real formats) and other stuff.
Nostalgia Channel ?!? (VCR alert)
According to the TV-NOW website, the movie "Inchon!" will be shown several times in July on the "Nostalgia Channel". I can't find any more information about this channel; their website was down. Does anybody get it? I would really appreciate it if someone could tape "Inchon!" for me.
"Sex and Mrs. X"
This tv movie premiered (in the US) on the Lifetime Cable network on Monday, April 10 at 9pm (Eastern/Pacific). It will be repeated on April 16, 19, 29, 30. Jacqueline plays "Madame Simone" who helps "Dale" (played by Linda Hamilton) improve her self-confidence after her husband leaves her. Apparently this movie is based on a true story. Specifically, on an article that appeared in "Allure" magazine last year with the same name. The Los Angeles Times gave it, and Jacqueline, good reviews, though some other were less favorable to the movie.

Jacqueline also appeared on the "Donny and Marie Show" on April 10th to promote the movie.

The Lifetime web page now has a link for a RealPlayer movie clip.
Another Artist Documentary
Jacqueline also narrates another "painter" documentary that will be shown on PBS in April. It is "John Singer Sargent: Outside the Frame". Check your local listings.
Golden Globes
Jacqueline looked great in an elegant Vera Wang dress. After looking at the pictures again, I would say the color was a slightly lighter shade of wine, similar to what she wore to the Emmys, but simpler in design.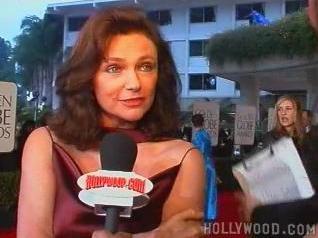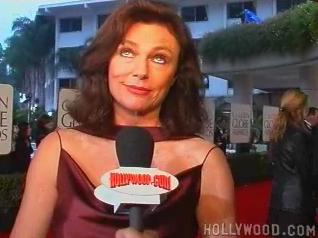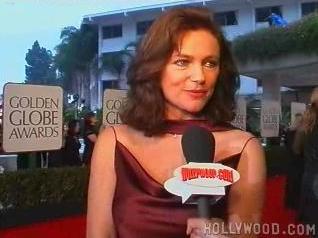 I believe she was seated at the "Joan of Arc" table. Watch the E! cable network's Golden Globe Fashion Review Saturday (Jan. 29) and you may get another glimpse (if you can stand Joan Rivers).

You can see a video clip here from before the show (QuickTime, Real and Windows Media formats). The pictures (above) are from that clip, on the Hollywood.com website.

However, she did not win a Golden Globe. She was nominated in the category "Best Supporting Actress in a TV Series, Miniseries or Movie" for "Joan of Arc". There were seven nominees in her category, and I think her name was left off the list when the nominations were originally announced. That's four nominations but zero wins so far at the Golden Globes.
Live! With Regis and Kathie Lee
Jacqueline appeared on the talk show "Live! With Regis and Kathie Lee" on Friday, January 7th. They showed a clip of "Britannic" and talked about that a little. She mentioned that she had been busy working "eight projects" in the last year, but that many were not out yet. Talked briefly about filming "Jesus" in Morocco, anbd then playing a French madame in "Sex and Mrs. X". That was it.
Intimate Portrait video for sale
The Lifetime cable network's hour-long documentary on Jacqueline is for sale on their website.
Emmy Awards
Jacqueline did not win the Emmy (see below). It went to Anne Bancroft. I think the only Emmy that "Joan of Arc" won was Supporting Actor (Peter O'Toole). However, Jacqueline looked stunning in an off the shoulders gown, in a deep wine or burgundy color.
Emmy Nomination
Jacqueline has been nominated for an Emmy for her performance in "Joan of Arc" (cateogry: "Outstanding Supporting Actress in a Miniseries or Movie"). There are six nominees is this category, including Olympia Dukakis, also for "J of A". Overall, "Joan of Arc" received a total of 13 nominations, including Outstanding Miniseries, Directing, Art Direction, Casting, Costumes, plus acting nominations for Leelee Sobieski and Peter O'Toole.

The Television Critics Association has already awarded their prize for Outstanding Achievement in a Movie, Miniseries or Special to "Joan of Arc".

See below for the CBS "Joan of Arc" website (they are also selling the videotape).
"Joan of Arc"
CBS now has a web page for their "Joan of Arc" mini-series. They keep adding more stuff to their site, though some of their links seemed broken. There is one tiny picture of Jacqueline, under the actor biographies.

"Entertainment Weekly" gives the mini-series an "A". [Update: Part 1 of the mini-series was the second-highest rated show for its week, easily beating everything else in its time slot. This last little bit helped CBS edge out NBC in the overall, whole-season, ratings contest. The ratings for Part 2 will be out this week. (The rating week is Monday through Sunday.)]

Jacqueline portrays Joan's mother, Isabel D'Arc. It will air on two nights, Sunday, May 16, and Tuesday, May 18, 1999. Entertainment Tonight showed a trailer, about 70 seconds long, on March 23. There was a brief shot of Jacqueline.
Older Magazine News
There's a small article in the new issue (5/2001) of Movieline about Jacqueline, which was online, but is gone now. However, the magazine has a full-page photo which was not online.

Jacqueline has a small picture and mention for "The Sleepy Time Gal" in an article about Sundance 2001, in the latest issue of Premiere magazine (American version; April, 2001).

And there's an even smaller item in the new In Style magazine (also April, 2001).

The New York Times Sunday Magazine for 18 November 2000 has a one page photo of Jacqueline. It's part of a feature on fashion and George Cukor.

There is a small picture of Jacqueline with Emin Boztepe in the 13 Nov 2000 issue of the French magazine Oh La! (number 113; page 71). The article is about couples with large age differences.

A recent issue of the UK magazine "Hello!" has a picture of Jacqueline at the Emmys. (I think it is the Sept. 28, issue.)

Jacqueline is on the cover of the current issue of the small (digest sized) magazine "Prevention's Guide: Healing Herbs". There is a six-page article whith photos inside. I just spotted this in the grocery store; but the cover says "Display until January 21, 2000", so I'm not sure how much longer it will be available. Watch for it at grocery store check-outs.

The September 1, 1999, issue of "Chi" has another article about Jacqueline, and the "Jesus" miniseries.

The July 15, 1999 (#28) issue of the Italian magazine "Chi" has an article about Jacqueline. It concentrates on her relationship with Emin Bozetepe, and also mentions her portraying Mary.

It has also been reported that the German magazine "Die Aktuelle" has an article in its July 12th issue about Jacqueline, but I have not seen it.

The 26 May issue of "Semana", a Spanish weekly magazine, has a one page interview/article with Jacqueline. It claims she has had silcone breast implants! To support this claim, they ran a picture that is more than 2 years old (1997 Oscars), in which she had a lot of cleavage showing. They quote her as saying that she does not see anything wrong with plastic surgery. She doesn't say anything about having such surgery herself. I view this report with extreme scepticism. [They do also report on her role as "Mary" the mother of Jesus, in an upcoming episode of "The Bible".]

"Gala", a weekly French magazine has an interview with Jacqueline in its 27 May issue (#311). Some of the photos are the same as in the "Hola!" article (below), but I think the interview is different.

The Spanish weekly magazine, "Hola!", has a multi-page Jacqueline article (interview with photos) in the May 13th issue. She is pictured with her boyfriend, martial arts instructor Emin Bozetepe.

"OK!", a British weekly, has a one page interview with Jacqueline, with a photo. It's in the May 7th issue, number 160 (Jill Dando on the cover).

The April 23rd, 1999, issue of the Spanish magazine "Diez Minutos" has a three page article about Jacqueline, with some nice photos.

It was reported that the French magazine "Oh La!" included a picture of Jacqueline in its "Oscars" coverage (April 7th). However, I wasn't been able to find the magazine in the US.

The March 25th, 1999, issue of the Italian magazine Chi has a five page article about Jacqueline, with a short interview, and several photos. [Thanks to Carlo in Rome for alerting me to this magazine.] The article also talks about "Dangerous Beauty".
Dangerous Beauty
"Dangerous Beauty" was released on videotape in September, and has now also been released on laser disc and DVD.

Apparently it was being released in Italy with the title "Padrona del suo destino", which I thinks translates as "Lady of her destiny" or perhaps "Mistress of her own destiny". (A better title, I think, than "Dangerous Beauty".) In Australia (and the UK, I think) it was released as "A Destiny of Her Own".

The New Regency website has some production notes and information. But you will need a "shockwave" plug-in to see the "Dangerous Beauty" material. It also has some obvious typos and misinformation in Jacqueline's biography.