Swing (2004) [American]
An independent film that had its world premiere at the Orinda Film Festival in 2003; then played other festivals, and had short runs in NY and LA in 2004. It should be shown on cable and released to video in 2006 (it was released on DVD in January, 2006.) Here is the movie's website.
For part of the movie, Jacqueline is seen as an 85-year old woman. In other parts, she is in a blonde wig at a otherworldly swing music club.
Here is a long quotation from Swing's producer, Mary Keil, sent to another Jacqueline Bisset fan:
Jacqueline is a very special person, and I am not at all surprised that she has many fans who have loved her work over the years. We have become good friends thanks to Swing. I want you to know she especially enjoyed playing the role of Christine as an old woman, and, when you see the film, you will understand. My mother, 89, has said she deserved an Academy Award for her portrayal of the old Christine. (This was a sweet and naive comment by my mother, of course, because SWING, as a small independent film with very limited exposure, was never going to have Academy consideration.) She really became that old woman with all her idiosynchracies and eccentricities in her final days. And, of course, as the younger Christine with the blond wig in the forties dance club, Jacqueline is also wonderful. When I wrote the script, I wouldn't have dared even to fantasize that someone as incredible as Jacqueline would play Christine. When her name came up, my jaw dropped. And when she indicated she liked the script and was interested in the role, I was elated. She brought a depth and elegance to Christine (in Club Jimbo) that I, as a screenwriter, couldn't have written in. She also loved playing against Jonathan Winters. They had a very special rapport on the set. And, while she wanted to stay close to the script as it was written, Jonathan, not surprisingly, said things his own way. Jacqueline did a wonderful job listening to how he said something and then getting back to her lines as written, or approximately as written.
Here are some photos from the set, taken by Bundy Chanock:
With Innis Casey: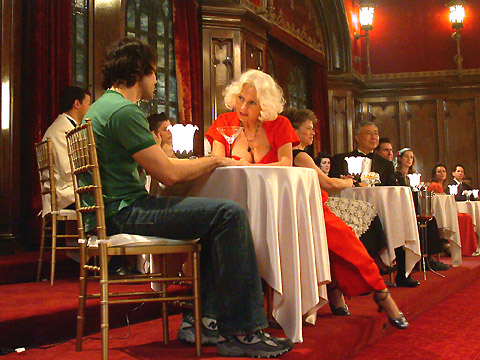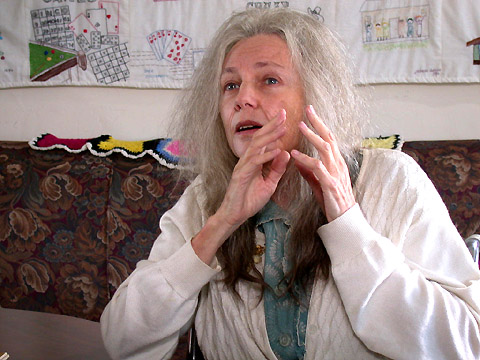 With Jonathan Winters: