On Two Stamps!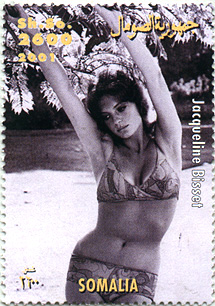 Jacqueline appeared on a stamp all by herself, issued by Somalia.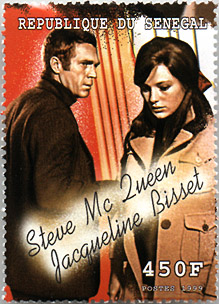 As previously reported, Senegal issued the stamp shown at left in 1999 featuring Steve McQueen and Jacqueline in "Bullitt". Part of a sheet of Hollywood Couples.
Hollywood Online: MovieTalk Interviews
This site (formerly called "BiteSite") contains several interview clips (using "Real Audio"). They have added 9 new clips, from an interview about "Dangerous Beauty", in addition to the 6 older clips. They also have a very small picture of her and a some minor biographical data. If you explore their site, they have lots of multimedia from many movies.
TV News
Jacqueline was seen briefly on the E! network's show, "Roman Polanski", one of their "True Hollywood Story" shows.
To find out when Jacqueline will be on TV this month, go to the TVNow Jacqueline Bisset Page. You might also want to check their listings for other stars, etc.
Jacqueline could be heard (but not seen) narrating Impressionists on the Seine on PBS last year.

AMC Salute to Film Noir: I caught glimpses of Jacqueline in the audience of this show on American Movie Classics that aired on December 1st, 1997.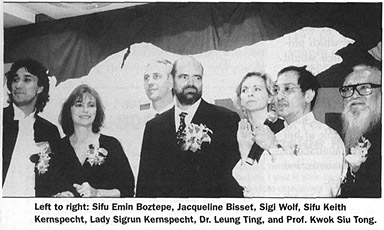 The December issue of "Inside Kung-Fu" magazine has this small black&white photo of Jacqueline with her companion Emin Boztepe and some other martial arts masters. This was pointed out to me by a Jacqueline Bisset fan who is a student of Emin Boztepe (there was a website that included more information about him and his school, but it is down right now).



Jacqueline Around the World
Jacqueline Presided Over Montreal Film Jury
Jacqueline was in Montreal for the Montreal World Film Festival (Festival des Films du Monde), Aug. 22 to Sept. 2, 1997, where she is president of the "official film jury". You can read the Press Release, which includes a short bio, and has links to more info about the film festival. Another Montreal Film Festival page, with info and a few pictures of Jacqueline.
Jacqueline on Another Film Jury
Jacqueline was on the jury of another film festival, in France. If you check her page at their site, you'll see they "borrowed" some of my scans. They also give a link to my old site.
Jacqueline Spotted in Moscow
Another fan reports that she and her husband met Jacqueline in the Pushkin Fine Arts museum in Moscow. In her words: "[Jacqueline] was there for the Moscow International Movie Festival along with Robert De Niro, Jeoffrey Rush and Sophia Loren. I have to tell you she is even more beautiful in person, with the body of an eighteen-year old.... She was very nice to us and gave us an autograph.... By the way she is even more popular in Russia than she is here."
Jacqueline was also at the Argentine Film Festival; this site includes a couple of pictures of her.
The 1996 AFI Fest Report includes a picture of Jacqueline. And another picture here.
Miscellany
Mike Myers, a.k.a. Austin Powers
Apparently Mike Myers (of "Wayne's World" fame) (and/or Mike McCullers?) is a Jacqueline Bisset fan. The a tie-in book, Austin Powers: How To Be an International Man of Mystery, by Mike McCullers, has a section entitled, "Top Ten Birds, Then and Now" (that is, 1967 and 1997). The only woman to make both lists is Jacqueline Bisset!
See the Links Page for more links.
Height
According to some 1970s movie magazines, Jacqueline is 5' 6 1/2'' tall.
TV: The Simpsons
In an episode from the 14th season, "Large Marge", the Old Sea Captain (Captain McAllister) sings "You're like Jacqueline Bisset in my favorite film, 'The Deep.'" This was 25 years after the movie's release.
TV: Cheers
The 18th episode of the third season of Cheers (the sitcom) has a Jacqueline Bisset connection. The episode is titled "Bar Bet". An old drinking acquaintance (played by Michael Richards, "Kramer" of Seinfeld) of Sam's (Ted Danson) visits the bar to remind Sam of a bet they made. Sam claimed he would marry Jacqueline Bisset by a certain date (now just a day away); if not, the other guy gets the bar. Though the agreement would probably not stand up in court, Sam doesn't want his old drinking problems dredged up in public again. Carla comes up with the scheme to find another woman named "Jacqueline Bisset" (rather than the movie star) for Sam to marry in time to win the bet. They find such a woman, though the marriage doesn't take place. So in this episode, the actress Laurie Walters plays "Jacqueline Bisset". [At one time, the Internet Movie Database had this confused, and listed this episode of Cheers in Jacqueline's filmography.]
Music:
In the third verse of his song Clifton in the Rain, Al (Year of the Cat) Stewart sings about Jacqueline:

   Jacqueline Bisset
   I saw your movie
   Wondered if you really felt that way
   Do you ever fear
   The images of Hollywood?
   Have you felt a shadow of its pain?
   I thought of you in Clifton in the rain.

He sings her last name as "bis-SAY". The song originally appeared on the album Bedsitter Images; it was included on the collection Al Stewart: The Early Years (1977) and more recently on To Whom It May Concern. I don't know what year the song was written, or which movie it refers to. The link listed above has the complete lyrics, and links to the guitar chords. There is some discussion of the song and the reference to Jacqueline in the Archives of Al Stewart Mailing List
Billing:
In "Cul-De-Sac", Jacqueline played a character named "Jacqueline", but was billed as "Jackie Bisset"; in "Two for the Road", she played a character named "Jackie", but was billed as "Jacqueline Bisset".

Updated: 3 January 2004

Back to the Jacqueline Bisset Main Page